(I Chronicles 11:18, 21:24; John 12:3) The chorus came after a sermon by Dan Davis ('96) entitled, "Costly Devotion." Carlos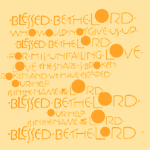 Calderon encouraged me to write verses.Background vocals:Teri Alliston, Jack Dorman
.
I want to be poured out
In costly devotion
I want to be perfume
Poured on your feet
Holding back nothing


Let me be an offering
Of costly devotion
To Jesus my King

What will I profit
With riches untold
To gain the whole world,
And lose my own soul
(So) all that I am
I lay at your feet
That my life will count
for eternity
For You gave Your Son
And He chose to die
An off'ring of love
That purchased my life
He poured out His blood
Redeeming my soul
Let Him be my prize
Let Him be my goal!
No greater love
Than this can there be
The King of all kings
Dying for me
In light of this gift
I give ev'rything
What else can I do?
What less can I bring?